The Martin's Arm Retractor - A Complete Guide
In this guide, you will learn about The Martin's Arm Retractor System from Hayden Medical and how it can be used in a multitude of surgeries. For questions about this guide or The Martin's Arm, contact Hayden directly via email at hayden@haydenmedical.com. Thank you for reading and enjoy the guide!
The Martin's Arm Retractor
The Martin's Arm Retractor from Hayden Medical is a necessity for any operating room. With the ability to hold different retractors, scopes and instruments, it is like having a steady set of hands eliminating the need for an extra OR assistant. If you have used Martin's Arms, you know how beneficial they are in the OR. Constructed of solid German Stainless Steel, its sturdy and thin design allows the surgeon more area for movement. This device provides minimal set-up time as well as facilitation of the operation that might otherwise become difficult or even hazardous. This retractor system is ready to be your extra set of steady hands in the OR.
Procedures where the Martin's Arm is used:
Carotid Artery Surgery

Spine Surgery

Neurosurgery

Laparoscopic Surgery

Bariatric Surgery (This includes gastric balloon surgery)

Liposuction (Including Lipedema)

Abdominoplasty

Gynecologic Surgery (Including Hysterectomy)

Hymenoplasty/Vaginoplasty

A&P Resection

Radical Surgeries
Designed with precise quick-locking features, variable height, and 360° rotating movement adjustments, giving the surgeon a multitude of angles to work with. The need for this device is to enhance visualization and technical performance that saves time and keeps operating costs low. With so many advantages and applications, The Martin's Arm is the perfect and cost-effective OR assistant.
See the graphic below with the different styles of Martin's Arms that Hayden Medical provides as well as attachments and accessories commonly used with this system.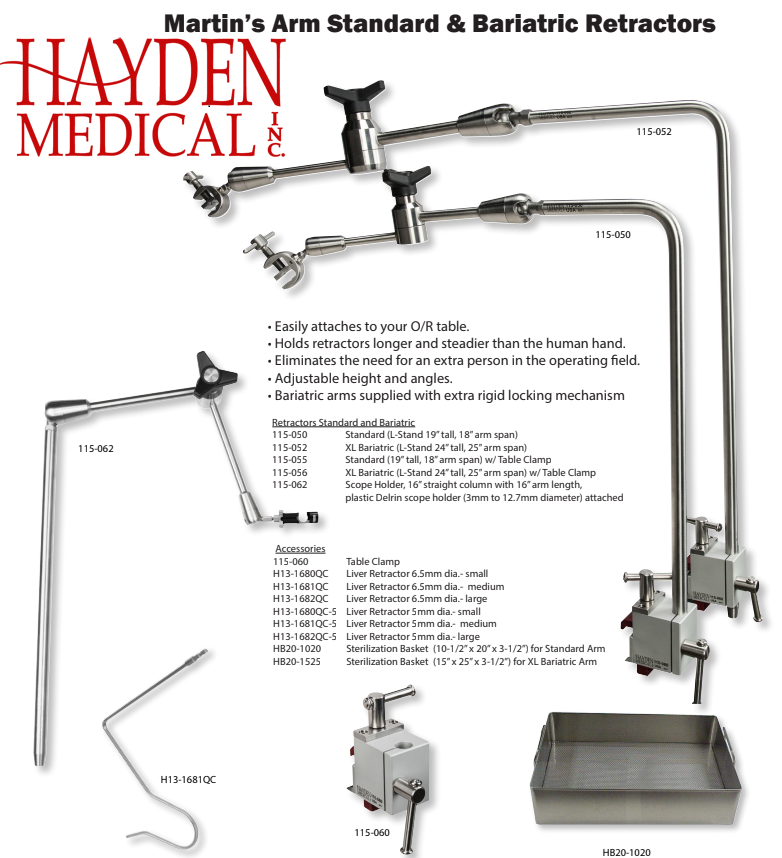 Retractors and other devices commonly used with the Martin's Arm are:
Deaver Retractors (Including Deep Deavers)

Bresiky Retractors (Including the Breisky Navaratil) 

Tebbets or Ferriera Style

 Breast Retractor

 (Endo Retractors)

Laparoscopic Liver Retractors 

(Nathanson Liver Retractors, Quick-Connect Liver Retractors and Standard Liver Retractors)

Heaney-Simon Retractor

Endoscopes (usually rigid and with a sheath)

Various other Fiber-Optic Retractors with light and suction
Martin's Arm sterile baskets and containers make sterile processing a breeze. These baskets allow maximum efficiency during sterile processing and setup in the OR. The sterilization baskets fit both our standard and XL arm. Many of our doctors and surgical techs who have used Martins Arms find our cases to be a perfect fit to help with OR organization and consistency.
Digital-Inservice on The Martin's Arm 
Shane from Surgical Tech Tips has a great Inservice-Style video that covers a great deal of information on the Martin's Arm Retractor system. Take a look at the video below and for any questions that weren't answered, email us at info@haydenmedical.com and we are happy to expand on this video and guide. 
Which or Who's Martin's Arm do I use?
There are only a handful of manufacturers that supply The Martin's Arm, but Hayden Medical takes it one step further. We work with surgeons and surgeons who educate on the use of these devices in various surgeries daily and hear their feedback. Over the years, we have made modifications and improved on the product in a handful of ways:
Thicker posts for maximum strength and support.

High-Quality 3-Prong Knob to replace classic "wing-nut" designs. This allows for easier tightening, releasing and placement/positioning of the arm.

Quick-Connect variations are available for changing clamps, attachments and other devices quickly and easily.
Key Takeaways:
Eliminates fatigue and obstructions as it replaces a nurse's or tech's need to hold instruments in place

Used in many different types of surgery

Holds anything varying between scopes, forceps, retractors, light sources and pretty much anything that needs to be stabilized and fits in The Martin's Arm clamp

Keep it sterile and organized easily with sterilization baskets that fit most hospital and OR autoclaves

Upgraded design with thicker posts and stronger, more durable knobs is becoming the industry standard
For any information on The Martin's Arm, give us a call or email Hayden directly at hayden@haydenmedical.com