SKU:
Martin's Arm Retractor (Standard & "XL" Bariatric)
The Martin's Arm Retractor from Hayden Medical is a necessity for any operating room. With the ability to hold different retractors, scopes and instruments, it is like having a steady set of hands eliminating the need for an extra OR assistant. If you have used Martin's Arms, you know how beneficial they are in the OR. Constructed of solid German Stainless Steel, its sturdy and thin design allows the surgeon more area for movement. This device provides minimal set-up time as well as facilitation of the operation that might otherwise become difficult or even hazardous. This retractor system is ready to be your extra set of steady hands in the OR.
Procedures where The Martin's Arm is used:
Carotid Artery Surgery

Spine Surgery

Neurosurgery

Laparoscopic Surgery

Bariatric Surgery (This includes gastric balloon surgery)

Robotic Surgery 

MIS (Minimally Invasive Surgery)

Liposuction (Including Lipedema)

Abdominoplasty

Gynecologic Surgery (Including Hysterectomy)

Hymenoplasty/

Vaginoplasty

A&P Resection

Radical Surgeries
Designed with precise quick-locking features, variable height, and 360° rotating movement adjustments, giving the surgeon a multitude of angles to work with. The need for this device is to enhance visualization and technical performance that saves time and keeps operating costs low. With so many advantages and applications, the Martin's Arm is the perfect, cost-effective OR assistant.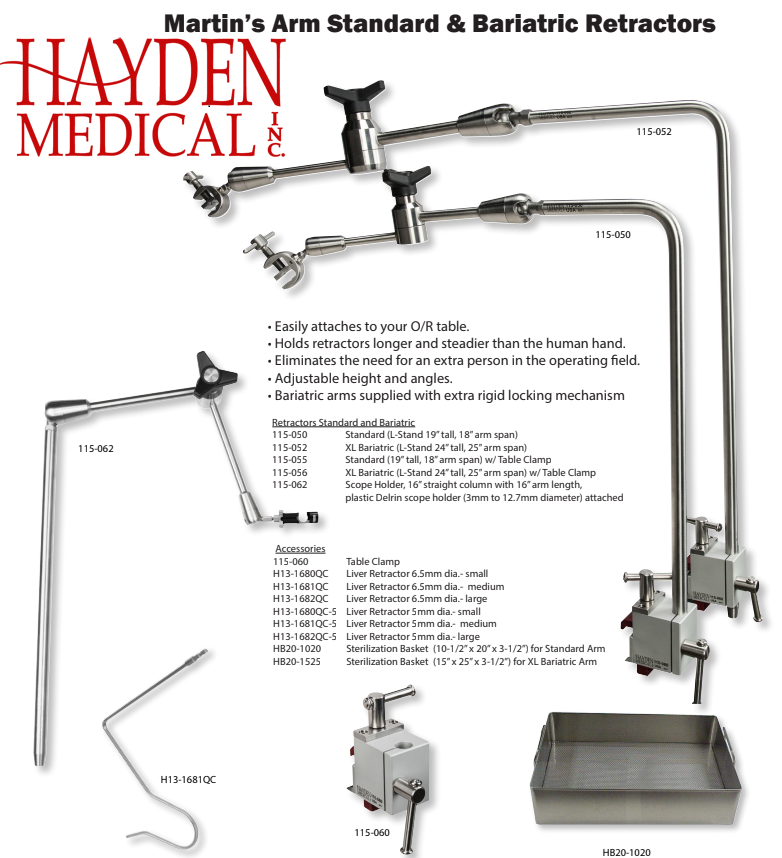 This system can hold many styles of retractors (vaginal, liver, Deaver, etc.) as well as scopes and other surgical accessories.
Retractors and other devices commonly used with the Martin's Arm are:
Deaver Retractors (Including Deep Deavers)

Bresiky Retractors (Including the Breisky Navaratil) 

Tebbets or Ferriera Style Breast Retractor (Endo Retractors)
Laparoscopic Liver Retractors (Nathanson Liver Retractors, Quick-Connect Liver Retractors and Standard Liver Retractors)

Heaney-Simon Retractor

Endoscopes (usually rigid and with a sheath)

Various other Fiber-Optic Retractors with light and suction
Hayden Medical also supplies sterile baskets and containers to make sterile processing a breeze. Our baskets allow maximum efficiency during sterile processing and setup in the OR. Our sterilization baskets fit both our standard and XL arm. Many of our doctors and surgical techs who have used Martins Arms find our cases to be a perfect fit to help with OR organization and consistency. 
See the inservice-style video below
https://youtu.be/_tWfDkk-RvA
115-050 Martin's Arm Retractor, L-stand 18-3/4" tall (arm only)
115-052 XL Bariatric Martin's Arm Retractor, L-stand 24" tall (arm only)
115-055 Martin's Arm Retractor, L-stand 18-3/4" tall, includes table clamp
115-056 XL Bariatric Martin's Arm Retractor, L-stand 24" tall, includes table clamp
Compare to Competitor Product numbers*:
Marina Medical 777-100 777-511 777-515 100-660C LTL Medical LT-110-650 LT110-655 LT110-660 Avante 11689 Artisan Medical LAP-100 LAP-101 Medline MDS8840015 MDS8840164 MDS8844005 MDS8844011
* Hayden Medical Inc. and haydenmedical.com are not affiliated with the companies listed above. Their names are registered trademarks of the respective owners of their companies
Additional information
| | |
| --- | --- |
| Weight | 1 lbs |
| Size | Standard, Bariatric |
| With Clamp | Yes, No |