Patient Eye Protection for Lasers
Patient Eye Protection for Lasers
Eye Shields (Ocular Shields or Corneal Protectors) from Hayden Medical are 100% reusable and a cost-effective solution for blepharoplasties, laser treatments and any other procedure where the eye needs protecting. Reusable eye protection is becoming the industry standard for laser procedures. They are now a necessity for maximum patient safety. Ocular shields are available in autoclavable plastic or autoclavable metal as well as have options for easy to use handles or suction cups for removal.
Internal Metal Eyeshields are heavily polished inside to ensure that the patient does not experience any discomfort. This polish extends to the outer ring of the shield until it touches the non-reflective front to provide safety, comfort and protection for both the patient and staff.
Hayden Medical provides eye shields for pediatrics and adults. Child sizes tend to be X-Small and Small when adult sizes range from Medium to Large. This includes ocular protection for lasers (metal) as well as surgical (plastic for blepharoplasty) ocular shields.
Sutcliffe Eye Shields are used by manually placing the shield over the part of the eye that you want protected rather than inserting the ocular shield for protection of the globe.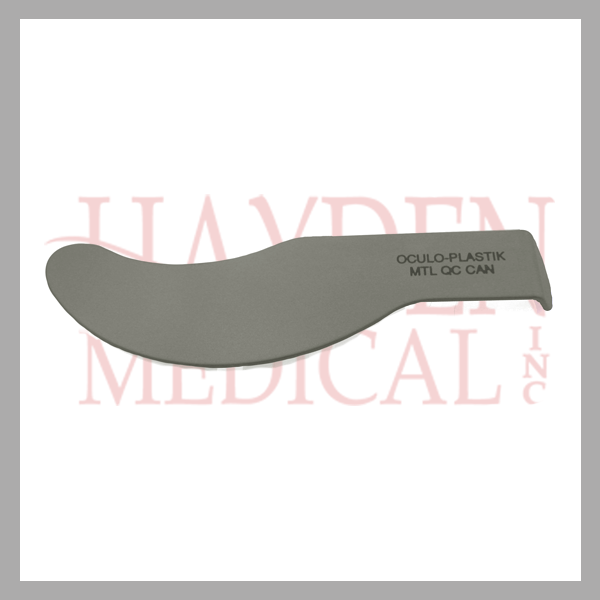 For more information on patient safety with lasers as well as using laser eye protection for the safest patient outcomes, see our article on "Protecting Patient Eyes with Ocular Shields (Laser and Blepharoplasty)" by clicking right here!
Disposable Eye Protection
Hayden Medical is in the process of providing disposable eye shields in packs of 25 or 50 pairs. For more information, please call or email us at 661-296-7200 or info@haydenmedical.com.
Sign up to Our Email List